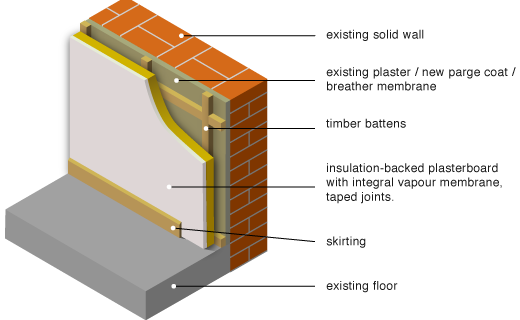 Cavity wall insulation
It is used to reduce heat loss through a cavity wall by filling the air space with material that inhibits heat transfer. This immobilises the air within the cavity (air is still the actual insulator), preventing convection, and can substantially reduce space heating costs. A wall that has had cavity wall insulation installed (after construction), with refilled holes highlighted with arrows During construction of new buildings, cavities are often filled with glass fiber wool or mineral wool panels placed between the two leaves (sides) of the wall, but many other building insulation materials offer various advantages and many others are also widely used.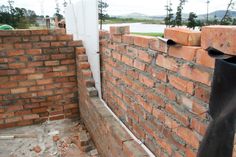 Cavity wall insulation explained
Many cavity walls can be insulated by injecting insulation material into the cavity from the outside. A specialist company will drill holes in the outside walls, inject insulation through the holes and then seal them with cement. The insulation material is usually either mineral wool or polystyrene beads, but polyurethane foam may sometimes be used instead.
To insulate your cavity walls, the installer drills small holes around 22mm in size at intervals of around 1m in the outside wall of your home. The installer then blows insulation into the cavity using special equipment. Once all the insulation is in, the installer fills the holes in the brickwork so you'll barely notice them.
Filling cavity walls is not a job you can do yourself, you will need to employ a registered installer. A professional can do the job in around two hours for an average house with easily accessible walls. It shouldn't make any mess.